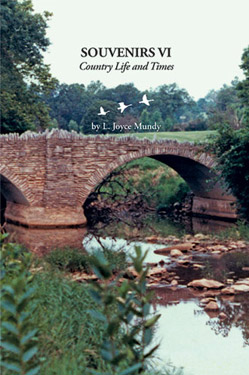 Souvenirs VI:
Country Life and Times
by L. Joyce Mundy
Cover and book design by Ian Sienicki
(free shipping)
Ordering information
Excerpt from the story, "Feed Sack Fashions"
When I was a child, feed sacks were made of cotton cloth. In those leaner times, the feed sack was put to good use by housewives. During the late 1930s into the 1950s, the sacks were often printed in florals, plaids, or other designs. Most families of our area raised chickens for frying and kept hens for eggs. The purchased chicken feed brought in a good supply of sacks.
Our underwear, nightgowns, sheets, diapers, and pillow cases were made from white feed sacks.... Printed feed sack cloth was fine for children's play clothes, ladies' house dresses, aprons, dresser scarves and curtains.... It is difficult for the younger folks of today to understand the fun of finding a pretty bag of chicken feed, or the enjoyment of wearing a favorite dress made by a mother or grandmother from a feed sack. Those were the times of simple pleasures.
The chickens who ate the feed from the sacks were often fried for Sunday dinner. This is an easier way to fry them.
Oven Fried Chicken
1 cut up frying chicken
1/2 cup flour
1 tsp. salt
Dash of pepper
1 egg
2 Tbs. water
3/4 cups finely crushed corn flakes
1/4 cup grated Parmesan cheese
1/2 cup melted margarine
Beat egg with water. Coat chicken with combined flour and seasoning, then dip in egg mixture. Coat with combined crushed corn flakes and cheese. Place in a 9 x 13 pan. Drizzle with melted margarine. Bake uncovered in 350 degree oven for 1 hour or until tender.